My favorite books are usually found by asking what my friends have read and liked. To that end I thought, "what better way to help my learners find their next favorite book than by asking their friends what books they liked."

Click on the videos below to see what you have been missing or on the book covers to read more about the books themselves.
---
Non - Fiction
The Operator

by

​Robert O'Neill

"The Operator

describes the nonstop action of O'Neill's deployments in Iraq and Afghanistan, evokes the black humor of years-long combat, brings to vivid life the lethal efficiency of the military's Tier One units, and reveals firsthand details of the most celebrated terrorist takedown in history." - Goodreadscom

---
Action
Warcross

by

​Orson Marie Lu

"For the millions who log in every day, Warcross isn't just a game—it's a way of life. The obsession started ten years ago and its fan base now spans the globe, some eager to escape from reality and others hoping to make a profit. Struggling to make ends meet, teenage hacker Emika Chen works as a bounty hunter, tracking down players who bet on the game illegally." - Goodreads

---
Sci - Fi
Ender's Game

by

​Orson Scott Card

"Andrew "Ender" Wiggin thinks he is playing computer simulated war games; he is, in fact, engaged in something far more desperate. The result of genetic experimentation, Ender may be the military genius Earth desperately needs in a war against an alien enemy seeking to destroy all human life. The only way to find out is to throw Ender into ever harsher training, to chip away and find the diamond inside, or destroy him utterly. Ender Wiggin is six years old when it begins. He will grow up fast." - Goodreads

---
Sci - Fi
Feed

by

​M.T. Anderson

"Identity crises, consumerism, and star-crossed teenage love in a futuristic society where people connect to the Internet via feeds implanted in their brains.

For Titus and his friends, it started out like any ordinary trip to the moon - a chance to party during spring break and play with some stupid low-grav at the Ricochet Lounge. But that was before the crazy hacker caused all their feeds to malfunction, ...." - Goodreads

---
Coming of Age
Because I Am Furniture

by

​Thalia Chaltas

"Anke's father is abusive. But not to her. He attacks her brother and sister, but she's just an invisible witness in a house of horrors, on the brink of disappearing altogether. Until she makes the volleyball team at school. At first just being exhausted after practice feels good, but as Anke becomes part of the team, her confidence builds." - Goodreads

---
---
Non - Fiction
WHAT ELSE ARE WE READING
---
---
Powered by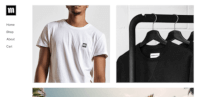 Create your own unique website with customizable templates.